over the easter weekend we flew up to jo'burg for a much needed visit home. well... our old home at least. i say much needed because , obviously we miss our family and friends like crazy but also to prove to our-home-sick-selves that we did make the right decision. it's hard to move away from everything you've know you entire life. harder than hard actually. especially when you're pregnant and all you can dream of is doing the nursery : ) don't get me wrong, it was so good to be there. i got a huge lump in my throat as we drove in the gate to the farm. i adored spending time with my mama, at my aunts, garys parents and seeing all my friends and family. but jo'burg is crazy huge and it seriously felt like we spend most of out time in the car driving from one place to the next. it's funny how quickly we adapt and adjust. i am a farm girl. i grew up on the out skirts of jo'burg and was so used to driving more than 20km to get to our nearest shop. visiting gary's parents on the weekends was 120km round trip. gary would spend 3-4 hours in traffic everyday driving to work and back, he would leave home before the sun came up and only arrive back after it had set. it's a hugely massive reason we wanted to move here, the traveling is far, far less. i am 2km from work, gary is 12km from work, he gets home before the sun has set everyday - very important with a baby on the way. we can walk to our closest shop. for this i am so truly thankful, we no longer sigh the sigh if, god forbid, we forgot a loaf of bread at the shop but most importantly, ga will be able to eat breakfast with us every morning and bath and kiss his baby goodnight every night.
my mom organised the baby shower for this weekend so i could have all my bests around me and so i wouldn't have to travel the 600km while very pregnant. clever. it was a gorgeous day and my mama did an outstanding job on the decor and food, she made on of my favs, her sweet and sour pork! oh gosh my mouth waters just thinking about it...
my cousin jenna had her super talented friend, nina, make this amazeballs cake! it's boobs and a preggie belly! check the little foot sticking out the side. i have saved the mini pink chucks, as per nina's instructions, in a box for our little nunu's 21st birthday. nina is just the sweetest. on arriving at my aunts jenna produced a gift to the baby from her. this is a girl i had never met in my life before and here she is buying gifts for our little! jenna is obsessed and i would even go as far as to say is more excited than any of us for this baby. so being jennas friend and having to endure non stop baby & mama talk from her had made nina feel close to us even though we had never met. how sweet? i told jenna she better bring her along to the shower so i could give her a hug and say thanks properly only to be surprised by this divine cake.
needless to say we were so utterly spoilt! the day was so awesome, having all of my friends and family around, eating yummy food and having a good old catch up. plus who doesn't love presents? none of the gifts had names but rather had a baby picture of the giver. i had to guess who the gift was from by said baby picture - so much fun! except when i got it wrong. they made me eat melted peanut barone out of a nappy... haha! not so bad.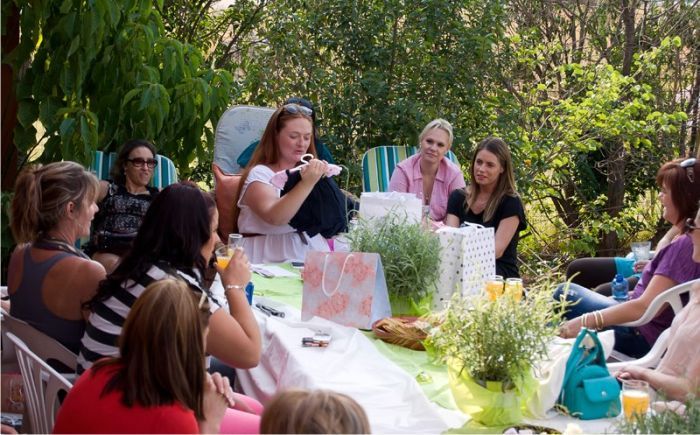 how awesome are these mint and peach hand knitted jumpers and matching booties from garys late step-gran? they were knitted for garys little niece, kyra, and her mama sweetly has passed them onto us. you just can't buy things like this.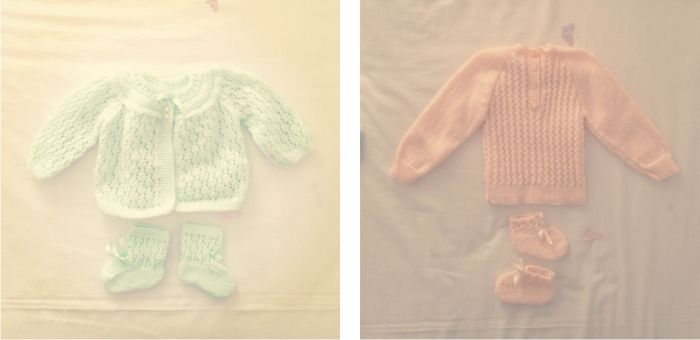 as a shower activity for the guests my clever, crafty mama had set up an area where guests had to paint and decorate blank onsies, leggings and shirts for our little. everyone loved this and had so much fun. we got some really cool & super special little creations too. clever you mama!
check out the loot! jeeze louise, thank heavens ga and i packed super light... even so we still had to check extra luggage. i would say a definite success! thanks to all my family and friends for all the love and spoils! we are so appreciative. but mostly i just wanna say huge thank you to my gorgeous mama, joe and little brother for all of your hard work, creativity and efforts. we are so blessed.