i knew that i wanted to do something crafty for our bubby. something handmade by her mama and papa, special for her. then looking at the utterly crappy mobiles available to purchase in this country, i knew, a mobile it would be. i toyed with the idea of transparent coloured perspex for a while but it just didn't sit right. way to hard and if i was going to do geometric shapes, sharp corners, not exactly baby friendly. i definitely wanted something soft you could grab and touch if you so wished. then i saw pom pom garlands and that was it. my step-mom, elke, gave us a lesson in how to make them. she cut out doughnut shaped cardboard on her laser, your dad and i went wool hunting, picked out some soft pastel colours and away we went. we pom pomed the heck outta that weekend! all three of us.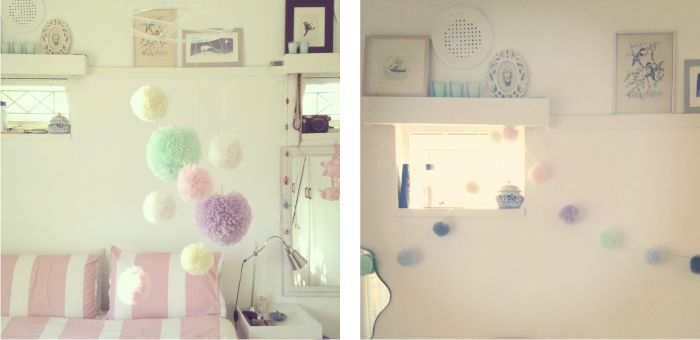 for those of you who like this idea here's a quick how to. you will need:
1. some pretty sturdy card board cut into a doughnut shape x 2 (a circle with a circle in the middle). you can make larger or smaller by making you outer circle bigger or smaller. once you've cut the circle & center circle out, cut a gap in your doughnut. this makes for easier winding.
3. a pair of sharp scissors.
4. a stand knife.
5. wool in your chosen colour .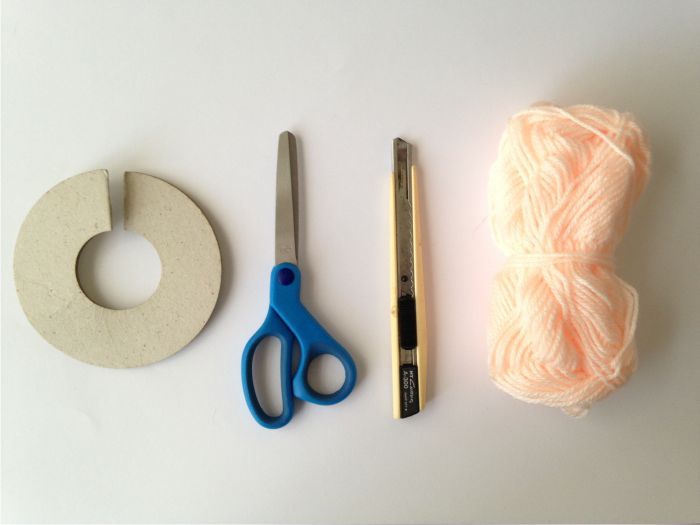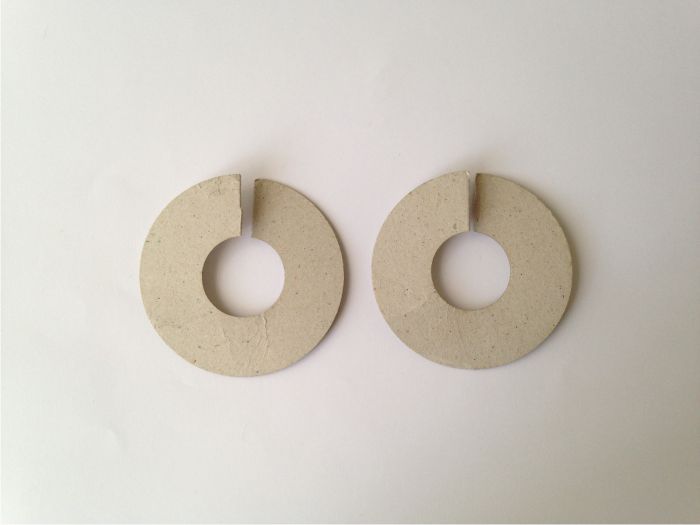 place the two donuts on top of one another lining up the gap from the outer circle to the inner circle. and start winding. depending on your wool thickness and pom pom size (ours was quite thin) you will need to do a few rounds. for our small pom poms we went around +/- 5/6 times. for our big pom poms we used an entire roll of wool.
once you're done winding take you're stan-knife and slice in between the two doughnuts. once you have sliced all the way around, take a long piece of wool and insert it in between the doughnuts, tying a not and thereby all the little strands of wool together at their center. remove the donuts, puff your pom pom out and there you go!
i laid out a clear 270mm x 270mm perspex circle (you can download the template
here
) with holes cut out to string the pom poms to with fishing gut. this gives the illusion of the pom poms floating in mid air. with all the left over little pom poms we stung a garland from the center piece of wool, as seen in the top right photo. As always, if you make up your own, please send me the link so i can check it out. happy crafting!!!