as i mentioned before we are staying with my dad, he very graciously offered to put us up rent free until we can save a deposit for a house of our own. thanks dad! we couldn't have realized this dream without your help and support. you see, the wedding kinda ate all our savings... it was totally worth it and we have no regrets - it's only money after all. now we start all over again. such is life, yes? i'm sure you can understand moving back in with your parents after living on your own for over seven years doesn't come without its challenges and is a huge reason i want to make our room our own - a little sanctuary we can escape to. also not working is seriously getting old fast and having a project to sink my teeth into is so darn exciting! i've spent the last couple of days searching the interwebs, gathering inspiration and playing around with decor in my head for our new space. gary keeps saying that i'm mad but boys just don't get that girls
need
to make pretty. throw in five months pregnant and you seriously start getting the picture. here's the vision... a room that all three of us will share and love. something light and airy, soft and comfortable with a dash of whimsy. below's my inspiration board.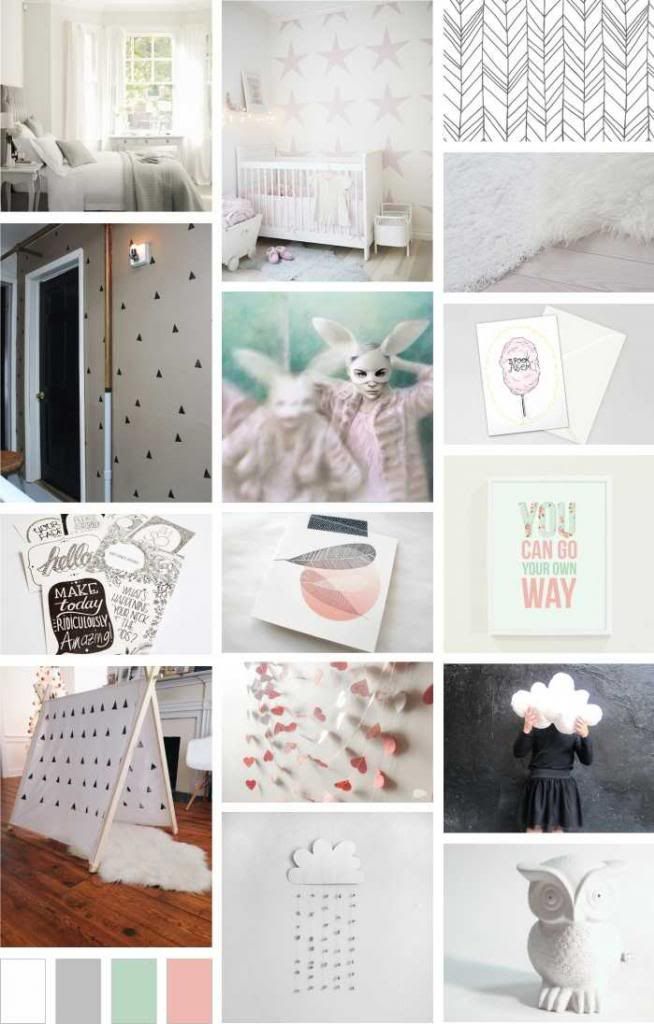 from left to right;
one
. white everything, sheer curtains, upholstered headboard.
two
. feature wall, white floating shelves, fairy lights, simple crib.
three
. featherland white fabric for upholstered headboard.
four
. triangle wallpaper.
five
. "wherefor art thou" illustration by bec winnel.
six
. spookasem illustrated card by happiness is.
seven
. illustrated typography card set by postick.
eight
. illustrated floating feather gift card by lauren fowler.
nine
. typography print by fieldtrip.
ten
. diy a-frame tent and faux sheep skin rug.
eleven
. heart garland by tinykiwicreations.
twelve
. cloud pillow by sewnnatural. thirteen. colour palette.
fourteen
. cloud mobile.
fifteen
. ceramic owl night light.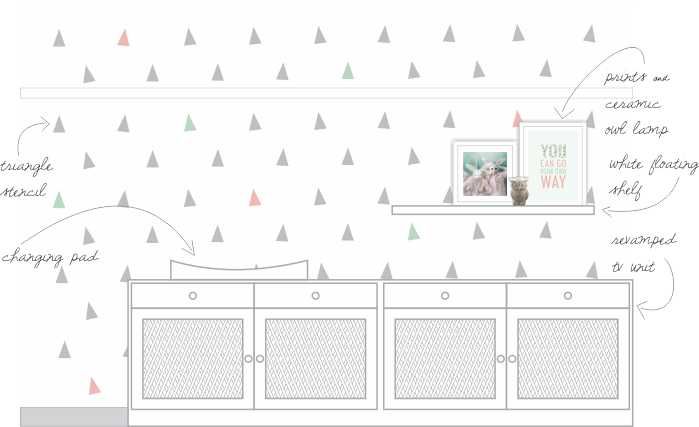 i'm a sucker for gray and white with pops of soft colours. our wedding is a dead give away... the picture above is the idea for the feature wall. white walls all round. i'll stencil on little grey triangles higgel-dee-piggel-dee add in a few peach and a mint just for a touch of colour variation and depth. i am going to paint our bed base and old tv dresser white and replace the door knobs with
these crystal ones
i used for my old desk revamp. the dresser will be for all the babies things and i'll use the top surface as a changing station. white floating shelves will hold beautiful prints and illustrations all framed in white frames (i am going to recycle thrifted, vintage frames and spray paint them white). a simple crib and our bed will be on the opposite wall. i found and amazing tutorial on a diy upholstered headboard that i'm dying to get going on. we wont have space for side tables so i'll make use of another extra long floating shelf for more prints, illustrations, photographs and reading lamps. i plan on making the baby a mobile using the heart garland and cloud mobile as inspiration. i'll make use of triangles, clouds, stars and moons cut from perspex in our colour palette to achieve this. i'll finish it all off by dressing the windows in sheer curtains allowing loads of natural light to filter in and adding a soft texture to the room. yay! how exciting. i'll photograph and blog diy's as i go. wish me luck lovelies!!!