yay! here it is. our save the date. it took a few tries to get it right. we had to battle wind, the dogs, each other and the setting sun. I am, however, dead chuffed with outcome.
we chose pastel envelopes to match the colour scheme of the wedding. I stuck small doilies on the front to address on top of. if you hadn't noticed doilies are a staple in this here wedding. i love the laceyness they bring without the actual expense of real lace. the laser cut wood creatures are magnets so our guests can stick the photo on their fridge, look at it everyday and not forget!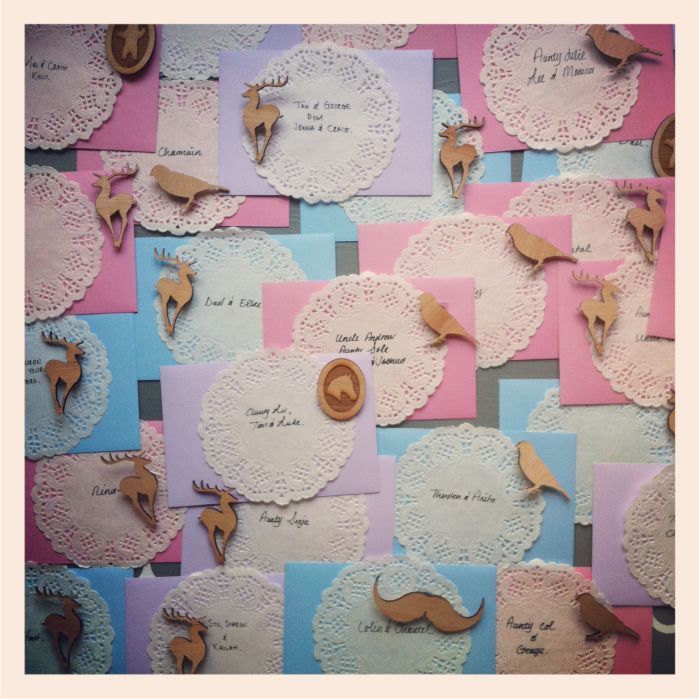 here's a gif from our first out take. haha! watch the backdrop move around... my baby brother (all 6ft of him) and my friend chan are holding it up behind the sheet. i suppose we needed this first out-take to re-invent the backdrop and iron out some kinks - design in every sphere is a process. we eventually cemented the poles into little plastic buckets, exchanged the string for metal rope and secured said rope into the ground with tent pegs. we also decided to go with black lettering for the all intensive purpose of legibility.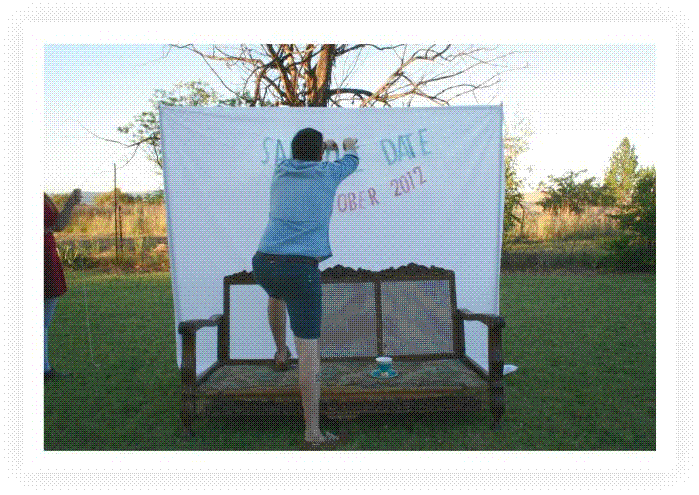 i want to say a massive thank you to my gorgeous friend chantal for her amazing photo taking skills, patience and most of all her willingness to always be apart of my hair-brained schemes. To my little brother daniel for being my very own personal assistant and doing whatever i ask him to do. to my momma for all her last minute help and pushing us to change the location! to my step mom, elke and my pappa for the use of the laser at no charge. and last but most certainly no least, to my gary for asking me to marry him so we can start this next, most exciting chapter. i love you all so much.