i am all about the details. those who know me will be sitting reading this and nodding their heads with a knowing smile on their faces. odc? um, definitely. gary refers to me as "the crazy virgo person" que evil scientist laugh. when it came to addressing the envelopes i would be posting to people i wanted to do something that said "there is a special inside" not just a plain old address on the front. our wedding is all 1000% handmade and so i want everything to reflect that. i am no
leigh harrington
so i had to come up with a way i could uniformly decorate the envelopes by hand and have them look pretty. i tried to free hand a wreath and it came out horrid, so i drew up a stencil on my computer. here is a quick and super easy way to add detail. i hope you like.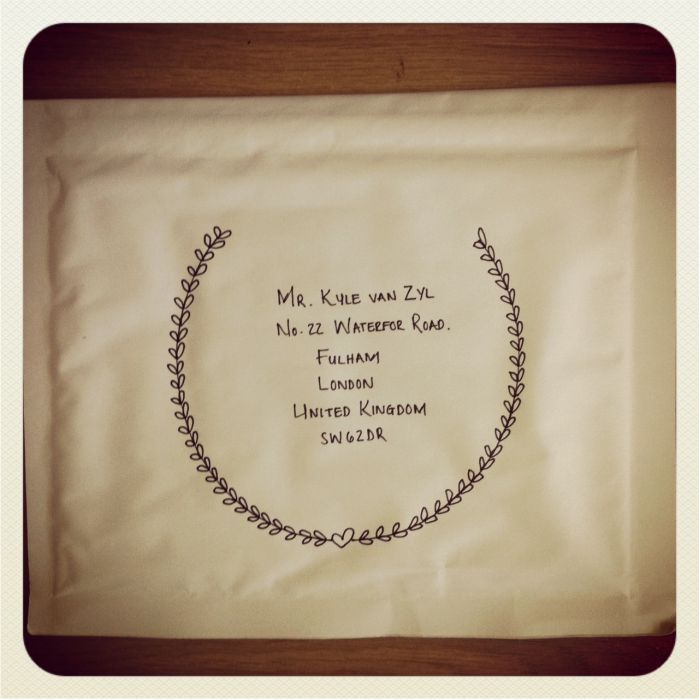 you will need:
♥ envelopes - i used A5 size with bubble wrap on the inside to protect the contents
♥ a pen of your choice - the artlines are my fav
♥ a piece of card coard
♥ a pair of scissors
♥ a printer
here
is the stencil i drew up. print it out on a piece of card. cut out the oval & then cut of the top.
now you have you stencil. i drew a little heart at the bottom of my envelope (you could do whatever your heart desires), put the stencil on top and centered it. now trace your line around the stencil.
now draw on your leaves using the line as a guide. address in the center and voila you have a pretty detail. nice huh?