Hey Y'all! and welcome to my new home! Yay for fresh starts
J
Loads has happen in the past few months between building this blog and my last post over at TALT… Gary and I are now official fiancé and fiancé! Can I get a HELLZ YEAH BITCHES! So much planning and crafting and planning! Man it's like Virgo heaven up in here! And Captain Sparkles (my ring) is just so darn pretty!!! I have finally stuck to a diet and started getting my weight under control! At my last weigh in, 2 weeks ago, I was officially 12kg's down! Man alive, I am so proud of myself, who knew I had this incredibly strong, stubborn mind? Hey mind, where in heck have you the past 27 years? My hair is now officially ginger and I am loving it! Suites my pale, freckled complexion. Great change from mousy blond. I have embarked on a new little venture, the realization of a long time dream really, which y'all will find out about soon enough eeek!
J
I've been saving this post for some time now, waiting for my layout and a few other things to be 100%.
Found this little baby sitting around collecting dust and junk in one of our hangars and fell head over heels in love with it. Turns out this desk is from
Zimbabwe
and is over 30 years old.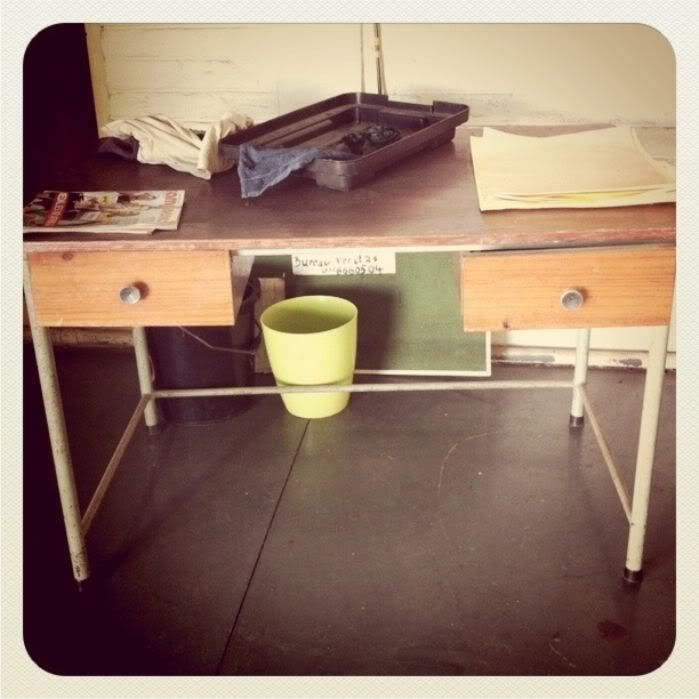 We gave it a good clean and a bit of a sand (which didn't do much because it has a laminate top). We then gave it a lick of grey enamel satin finish paint on the "wood" bits and white gloss on the frame and legs. We added some character by applying a line of scales I designed and had cut out of white vinyl to the top of the desk and the front of the drawers. We finished it off changing the knobs to these fancy crystal ones
J
Isn't it so pretty. Because my studio is so full I am currently using it as my dressing table.